Dallas Black Dance Theater presents another thrilling and intriguing performance for 2019. Dancing beyond borders showcases the meticulous technique and artistry, and crowd-pleasing abilities of the DBDT crew.
Dancing beyond borders Fort Worth and Richardson performances are highlighted below;
SATURDAY, MARCH 16, 2019
VENUE: W.E. SCOTT THEATRE
3505 W. LANCASTER AVE
FORT WORTH, TEXAS
7:30PM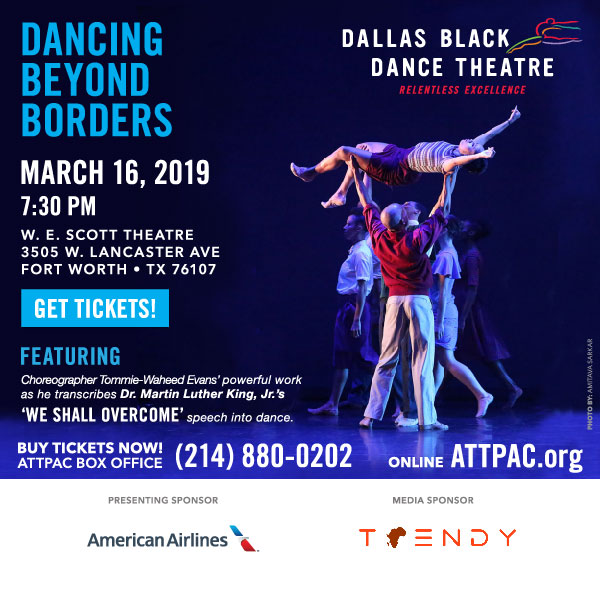 FRIDAY MARCH 22, 2019
VENUE: EISEMANN CENTER
2351 Performance Dr.
Richardson, TEXAS
7:30PM
ABOUT DALLAS BLACK DANCE THEATER: The mission of Dallas Black Dance Theatre is to create and produce contemporary modern dance at its highest level of artistic excellence. The vision of Dallas Black Dance Theatre is to fulfill its mission through performance and educational programs that bridge cultures, reach diverse communities and encompass ever-expanding national audiences.
Dallas Black Dance Theatre celebrates its 42nd season as the oldest, continuously operating professional dance company in Dallas. The ensemble, a contemporary modern dance company, consists of 12 professional, full-time dancers performing a mixed repertory of modern, jazz, ethnic and spiritual works by nationally and internationally known choreographers. View more information on the history of the Dallas Black Dance Theatre.